Sights in Shenzhen
Waterlands Resort

Shenzhen Waterlands Resort is an eco-park in Bao'an district centered on the Chinese wetlands and fishing. It covers an area of 1.7 million square meters and is dotted with lakes, streams, wood and grass. You can go fishing in either salt water or fresh water. There are also botanical gardens, springs, a mangrove area, a group-activity area and some areas for children to play. In "Fun World" you can enjoy many water-related activities such as walking over a chain bridge, a floating bridge etc. Chinese tourists go here to escape from the city and educate their children about nature.
The park also offers several accommodations for the night: from oddly shaped hotels to cabins at the lake (about 500RMB/night).
How to get there?
Shajin Township, Bao'an District (宝安区沙井镇)

Tel: 2514-2221
Buses: 652, 779, 337 (from Luohu Port and Shenzhen Railway Station), 338 (Shenzhen Airport)
Admission Fee: 60 yuan/person
Opening hours: 09:00 to 20:00
 
Evergreen Resort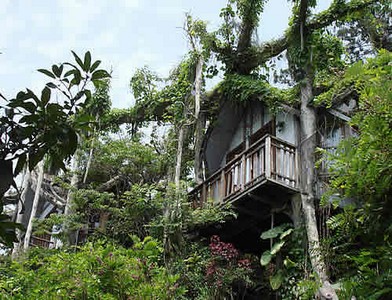 Evergreen Resort is located at the foot of Big Nanshan Mountain, near Moon Bay, in the Nanshan District of Shenzhen. It is a famously scenic spot, with interesting vegetation, and is a member of the Ten Major Attractions of Shenzhen. It has been recognized as the "Shenzhen Environment Education Base" by the Shenzhen Environment Protection Bureau and the Shenzhen Education Bureau. It has also been recognized as the "Guangdong Environment Education Base" by the Guangdong Environment Protection Bureau and the Guangdong Education Office.
Based on firm principles of health, nature, environmental protection, family, honesty, respect for work, helpfulness, and kindness, the staff of Evergreen Resort have made every effort to establish a scenic spot for enjoyment of leisure, nature, healthy activities, environmental protection, culture, art, and wholesome family activities.
Here you can experience the feeling of being in a tropical rainforest (the lung of the earth), listen to music performed with instruments made from recycled materials, visit our violent but beautiful Amazon fish exhibit, see flying butterflies in our Butterfly Farm, see the oddities of our Melon Garden, enjoy the offerings of our Flower Market, or participate in an informative "Forest Class" with your child.
You can even select a cabin or tree house as your accommodation. For your dining pleasure, your choices range from enjoying authentic rural Chinese food to brewing a cup of coffee precisely to your preferences in the Red House, our western-style restaurant and bar. Activity choices include pottery making, fishing, games, viewing of unusual works of art, dipping for goldfish, and many others. All these activities are enjoyed in close contact to nature, field, and garden.
How to get there?
1, Qingqing St., Moonbay, Nanshan, Shenzhen, China
Postcode: 518054
① Bus: 369: Buji Street------ Evergreen Resort; 210: Futian District------ Evergreen Resort ------ The Moon Bay; 350: Longhua Street----- Evergreen Resort-----The moon by;
42:Window of the wold-----Evergreen Resort-----The moon by; 396:Bao An CBD-----Evergreen Resort-----The moon by.
② Taxi: Luohu District, Bao'an District (30 minutes); Futian District, Nanshan District (20 minutes)------- Evergreen Resort.
Seaworld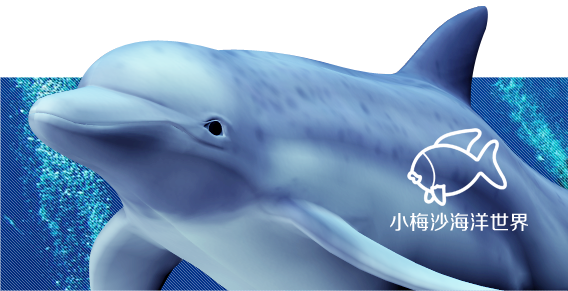 Shenzhen Xiaomeisha Sea World is a family-friendly entertainment complex that has attracted millions of visitors since it opened in 1998. It is located in Xiaomeisha Scenic Area (in the Golden Coastline east of Shenzhen) which is often referred to as the Hawaii of the Orient. This attraction covers an area of 200,000 square meters (about 49 acres) situated 28 kilometers (about 17 miles) outside the city.
This Sea World is China's leading marine-based theme park. It has grown steadily and now features nine aquariums and museums, two gardens and an island. The park's six aquariums exhibit fish, polar bears, polar foxes, sharks, whales and crustaceans. The Science and Technology Museum, the Dream Ocean World and the Museum of Model Airplanes attract many visitors as well. Other visit-worthy attractions include the Ocean Garden, Turtle Island and the Poseidon Garden.

Exhibitions
Shenzhen Xiaomeisha Sea World is home to many unique aquatic species. The Fish Aquarium is the home to over 500 kinds of rare fishes with a population of more than 6,000. As visitors walk through the aquarium's tunnel, they are surrounded by fish - competing for food, swimming and exploring their surroundings. The Multicolored Fish Tank and the Fish Tank of Treasures both also feature exotic species.
The Shark Aquarium has more than 30 sharks, including bull sharks (Carcharhinus leucas), lemon sharks (Feral Negaprion Brevirostris), black tip reef sharks, white tip reef sharks, zebra sharks and nurse sharks. Here visitors are invited to view the daily performance 'Dancing with Sharks'. The Whale Shark Aquarium is home to a giant whale shark, which is 8.34 meters (about 4.2 yards) long and 3 tones (about 6,614 pounds) in weight, and too many specimens of rare fish.

The Shell Museum is divided into five educational displays, which exhibit more than 600 kinds of shellfish, coral, and fossils (including dinosaur eggs).
The highlight of the Ocean World is an indoor rail-based exhibition hall, which is the biggest in China. The tunnel through the exhibit takes visitors on a trip through time, where they witness scenes of Robinson Crusoe's expedition, Aesop's Fables, the Tale of the Fisherman and the Fish, etc. This 15-minute trip gives travelers a chance to experience the history and the future of the ocean.
Many other exhibits at Shenzhen Xiaomeisha Sea World offer exciting opportunities for learning and discovery. We recommend visiting the Polar Bears' Home, the Home of Arctic Foxes, the Science and Technology Museum and the Museum of Model Airplanes.

Performances
Shenzhen Xiaomeisha Sea World's many wonderful performances add to the excitement of one's stay. Visitors are encouraged to stop by the Ocean Theatre where four dolphins, eight sea lions and six seals show off their great talent. Besides, it offers a total of 16 special performances, such as the Enthusiastic Underwater Ballet, the Magical Mermaids, the Wedding under the Ocean, the Undersea Figure Dance and Deep Sea Diving.
How to get there?
Xiaomeisha Seaside Resort , Yantian District, Shenzhen 518083, China

Take bus no. 103, 103B, 364, 380, 380B, 387, E11 and M207, and reach it directly.

Admission: Adults (Including children over 1.5m) – CNY140
Children (Free for children under 1.2m) – CNY75

Opening hours: 10:00 – 17:30
09:30 – 17:30 (On holidays)
Window of the World

Shenzhen Window of the World is a fantastic replica park situated at the Overseas Chinese Town. Here you can see vivid replicas of the world's wonders, historical heritages and famous scenic sites. The entire masterpiece is built at ratios of 1:1, 1:5 or 1:15.
Within one day, you can visit many reproductions of famous sites from different countries. For example you can find the Mahamuni Pagoda of Mandalay and the Angkor Wat of Cambodia here. European architectural splendors, such as the Eiffel Tower, the Ancient Athens, the Leaning Tower of Pisa and the Tower of London will carry you back to the cradle of classical European culture. When you tour the miniature Roman Colosseum, you might notice a cruel and bloody scene. Enjoy the picturesque scenery as you take a gondola along the canals of Venice. Mysterious Africa is always full of life and vigor. Here, the Pyramids and the Sphinx are quietly waiting for your visit. After traveling through typical African hamlets, you come to the Oceania. Sydney Opera House, which boasts a unique style, is a landmark not only of Australia but also the whole Oceania. Looking from a distance, it looks like a luminous pearl on the vast expanse of blue sea water. The rumbles of Niagara Falls and the Grand Canyon lead you to the America, a young continent. These two natural wonders are awe-inspiring. Moving on to modern civilization, in the replica of Manhattan you will see rows of towering skyscrapers. No wonder they say the rhythm of life speeds up here.
Visiting during a festival time is another way to experience this replica park. Annually the park holds the Cherry Festival and the Indian Cultural Week. During the Cherry Festival, wandering in the cherry garden of Japan and taking a cup of tea will refresh you. Window of the World runs many programs during holiday periods too. In the summer holiday, the International Beer Festival is a big tourist attraction. Probably, the Pop Music Festival is the favorite of young people. This is held on China's National Day. In December, Santa Claus welcomes New Year's approach. Following this the World Dance and Singing Gala is held during the Spring Festival. Taking part in the entertainment activities complements your travel plan.
How to get there?
China, Guangdong, Shenzhen, Nanshan, 深南大道9037号
邮政编码 518053

By subway
Take Metro Line 1 and get off at Shijiezhichuang (Window of the World) station

By public bus
From the railway station, take sightseeing bus 1 of bus no. 101
From the airport, take bus 327 to reach directly.
From other parts in the city, take bus 21,26, 105, 113, 201, 204, 209, 210, 222, 223, 230, 232, 233, 234, 301, 311 to 'Shijiezhichuang' (Window of the World) station or 'Baishizhou' station, pass through the road and walk about 300m, and you will get there.
By taxi
If you take a cab from the railway station, it costs approx. 50RMB
If you take a cab from the airport, it costs approx. 70RMB
Opening hours: 09:00 to 22:30
Recommended duration for a visit: 2 hours
Admission: Adults (Child above 1.5m) – CNY160
Child between 1.2m to 1.5m, Senior citizen between 65 to 69 years old – CNY80
Children under 1.2m, Senior citizen 70 years old and above – Free
Evening show (After 19:30) – CNY50
Happy Valley

Shenzhen Happy Valley, a large modern theme park in China, is located in Nanshan District of the city. Covering an area of 350,000 square meters (about 86 acres), the park boasts large quantities of breathtaking and exciting amusements to satisfy anyone's desire for modern entertainments. The whole park is composed of nine areas with different themes, including Spanish Square, Cartoon City, Mt. Adventure, Gold Mine Town, Shangri-la Woods, Sunshine Beach, Typhoon Bay, Playa Maya Water Park and Happy Times. The park encompasses nearly 100 exciting games for adults and children. Every day in the park, there are excellent performances in different styles, such as magic, acrobatics and extreme sports.
Upon entering the gate, one may step into the Spanish Square which has a Mediterranean flavor reminiscent of a Spanish Warf. Walking southward, it is possible to reach the amazing Cartoon City. Fairy stories are realized here. In the Cartoon theatre, many interesting films are on show everyday. The Peppy King's Mansion provides children with a house of dreams.

To the east of the Cartoon City, there is the exciting Mt. Adventure with dense woods and beautiful flowers. 'The Space Shot' here would bring you the breathtaking experience of rising up to 60 meters (about 197 feet) high within 1.8 seconds and falling down freely like a water drop. Go on walking and you will reach the Gold Mine Town. The set is based on a small flooded mine town in North America. People can experience a thrilling escape from a 'flood' on the Gold Mine Train. The Gold Mine Workshop offers people a chance to forge a steel keepsake.

Then, in the peaceful and mysterious Shangri-la Woods, is the Blue Moon Hollow portrays with mountains, caves, waterfalls, bears, tercels and many other animals. On the charming Sunshine Beach, with various wonderful shows by many excellent players, the Happy Valley Extreme Sports Camp provides a fashionable high time.

The most exciting place in the valley is Typhoon Bay, a small dilapidated fishing village. People can try 'Shooting the Chute' with the highest fall in the world. Besides that, the Top Spin brings you high into the sky followed by a sudden turn-over. Feel the pressing sound of wind and screams. In Happy Times, as well as interesting games, the 4D film is a totally different experience from traditional ones.
The most interesting place in the park is Playa Maya Water Park (which only opens from May 1st to Oct. 7th). Based on the mysterious Maya culture and depending the beauty of it watery scenery, it shows people a wonderful ancient world. Here, people can experience the long-past Mayan civilization and get an exciting sense of a primitive and desolate world. The buildings and statues here are all in Mayan architecture styles. In the daytime, people can enjoy the dense woods filled with great lizards, crocodiles and parrots. In the evening, the wild and ardent dancing performances of foreign tribes will warm up the atmosphere around the water.
In the park, full service are provided for the visitors. The amusements and sightseeing spots, the hotel, shops and restaurants are ready all the time.
How to get there?
By Subway
Board Subway Line 1 (Luobao (Green) Line) to "Shijiezhichuang" (Window of the World) station. Once you have arrived at the destination, exit through Exit A.
By Bus
From railway station, board sightseeing bus 1.
From the airport, board bus no. 327 to "Shijiezhichuang" (Window of the World) station. Cross the street and walk for 3 minutes before reaching the destination.
From other parts of the city, board buses 20, 21, 26, 204, 20, 210, 222, 223, 101, 105, 113, 301, 310, 311, 320, 324, 328, 329 or 370 to "Shijiezhichuang" (Window of the World) station. Walk for a duration of 3 minutes and you will reach the destination.

Admission: Adult – CNY200
Children, 1.2m to 1.5m – CNY100
Children, below 1.2m – Free
Night ticket (From 18:30 onwards) – CNY80
On cable car – CNY50

Opening hours: 09:30 – 22:00 (Weekdays)
09:00 – 22:00 (Weekend, festivals or summer holidays)
Safari Park Shenzhen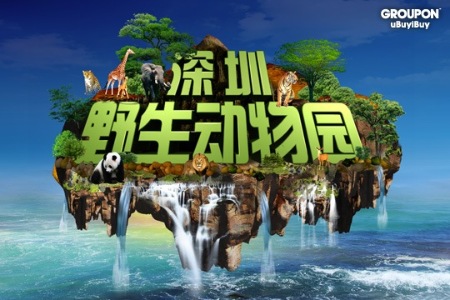 Shenzhen Safari Park is located in the north of the city, on the bank of the beautiful Xili Lake. The zoo combines animals, plants and animal performances, and is the first to uncage animals in China. More than 300 breeds of animals live here. Many of them are rare animals in the world or national protected animals in China. Pandas, giraffes, Asian elephants, red-crowned cranes, Siberian tigers and flamingos all could be found in this park.
With green mountains to the north as its barrier, the Safari Park is like a bright pearl in the bustling metropolis. The zoo, occupying an area of 120 hectares (296.5 acres), has three parts according to the living habits of different animals. Visitors can take buses to watch the uncaged animals strolling on the lawn.

In the adventurous beasts' zone, white tigers (Bengal tigers), North China tigers (Siberian tigers), South China tigers, bears, wolves, lions and cheetahs, all have their own homes. In China, a saying goes that 'one mountain cannot have two tigers', but in the Chinese Liger Hill, tigers and lions live harmoniously with each other. Here, visitors find the only tiglon in the world and rare ligers.

Giraffes, flamingos, zebras, kangaroos, camels, hippopotamuses, swans, pandas and other vegetarians inhabit the vegetarian zone. This area has the largest swan lake in China. Visitors can float in this lake to appreciate the graceful black and white swans. Considered the national treasures of China, the pandas are also well worth viewing.

In the animal performance zone, wonderful performances are awaiting the visitors. The red orangutans, the closest animal to human beings, come from India. They even serve as salesmen, cooperating with the parrots as cashiers and elephants as porters. Every day, the zoo holds about ten animal performances in the four animal performance halls, namely, the Circus Hall, the Elephants and Tigers Show Hall, the Sea lion Performance Hall and the Birds Performance Hall. The grand party for hundreds of birds cannot be seen in other parts of the world. Another exciting performance played by more than 300 actors and about 1,000 animals is also a pioneer in the world. The elephants act as the leaders of the parade, with tigers, lions and other animals following behind and clouds of pigeons hovering in the sky.

The Zoological Center in the northwest of the zoo is the largest in China introduces knowledge about animals. Visitors get familiar with the colorful animal world by watching specimen and pictures or simply using the Multimedia Touch Screen.
In addition, the Ocean World in the park is definitely worth a visit. There visitors can see many kinds of sea creatures such as spotted dolphins, sea lions, black fin sharks, white fin sharks and lemon sharks. Meanwhile, the musical drama 'Happy Ocean' featuring acrobatics in midair, high diving and sea animal performances will take your breath away.
How to get there?

East Side of Xihu Lake, Nanshan District, Shenzhen 518055, China
By Bus
N5, 66, 101, 104, M203, 226, 237, 240, B736, B796, B797
Admission:
CNY150 – Safari Park
CNY60 – Ocean World
CNY180 – Combo Ticket (Safari Park & Ocean World)

NOTE:
• Adults and children above 1.5 meters (4.9 feet) have to purchase the full price tickets.
• Children between 1.2 meters (3.9 feet) and 1.5 meters (4.9 feet) are admitted at half price.
• Children below 1.2 meters (3.9 feet) are free of charge.

Opening hours: 08:30-18:30
Shenzhen Mangrove Nature Reserve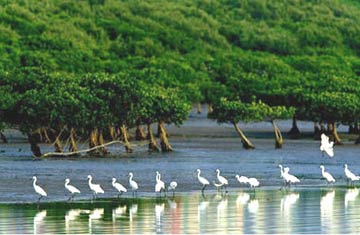 Mangrove Nature Reserve, located in Shenzhen Bay, is the smallest state-level nature reserve. Mangrove is a kind of marine woody phytocoenose, which comprise primarily of Rhizophoraceae Plants, which is named from its pink tree trunk. Some rare species, such as Excoecaria agallocha, Bruguiera gymnorrhiza, Kandelia candel, grow naturally here. It is also a state-level bird sanctuary, a habitat and rest site for migratory birds in the East Asia-Australasia Flyway.

According to statistics, there were 180 kinds of birds at most, more than 20 of which were rare species under international and national protection. It is flat and spacious in the Nature Reserve, which has various beautiful nature landscapes such as marshes, shallow water and forest as visitors can see. Mangrove Nature Reserve has been listed as one of the important international protection members by "International Union for Conservation of Nature and Natural Resources". It is also one of the members of "Man and the Biosphere" network in China.

Today's Mangrove Park, as it is the green wall of Shenzhen Seaside, is not only a paradise for birds and plants, but also an ideal place for Shenzhen people to entertain. On weekends or holidays, many people gather here, watching the sea, basking sunshine and sea wind, chatting and playing cards in the park.

How to get there?

Address
Mangrove Seashore Ecological Park, Mangrove Nature Reserve,Che Gong Miao, Shenzhen, 518040 Futian District
By Bus
Bus no. 23, 24

Admission: Free

Opening Hours: NA
Dameisha and Xiaomeisha Beaches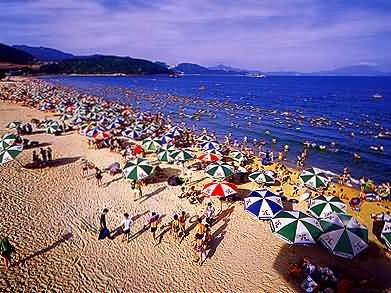 Da Meisha and Xiao Meisha are two beaches which form the coastal scenic area on the shore of Dapeng Bay in Yantian District of Shenzhen City. This scenic area has been a popular place where people have been happy since ancient times. Nowadays guesthouses, hotels, villas and camping houses can be found along the seashore offering tourists somewhere to relax and enjoy the beautiful seaside scenery.
Let's first go to Xiao Meisha which has the notable name of 'Oriental Hawaii'. The scenic area is surrounded by green mountains on three sides, with one side facing the sea. At the edge of the sea the sandy beach is like a crescent set between the blue sky and the vast ocean. This beach, resplendent with multicolored umbrellas, stretches for 1,000 meters (about 0.6 miles) and is noted for its clean bathing water. Out to sea yachts run before the wind giving up white spray, while motorboats and parachutes may also be seen. Laughter fills the air and when night falls, the barbecue field attracts crowds lured by fragrance of the food being prepared. The blue sky, blue water, white crested waves and golden sands attract thousands upon thousands of people who come here each year.
Da Meisha Scenic Area boasts Shenzhen City's longest beach which is 1.8 kilometers in length (about 1.1 miles). The beach is wide and the sand here is fine and soft while the clear seawater is shining in the sunlight. 'Wave Surfing on the Da Meisha Beach' is one of the 'Top Eight Scenic Spots' in Shenzhen. Several groups of themed sculptures stand on the beach, depicting the aspirations for a better life of the 'Drifting Generation' (the young people who had unstable jobs and insecure living conditions during 1940s-1980s). However, now the sculptures have become a symbol of happiness in the scenic area.
This beautiful seaside resort has golden sands and a blue sea that sets off the white sails of the boats under a sky dotted with white clouds. To the landward side there is the backdrop of green mountains where the fragrance of the coconut trees and beautiful flowers is carried by the sea breeze. For the adventurous who may be seeking entertainment there is the 'Water Slide on Ropeway', a challenging sport introduced from the occidental area. On the mountain near Da Meisha beach we can find Cultural Relics dating from about 3,000 years ago in the Shang Dynasty (16th - 11th century BC), such as the bronze vessels which represent the fruit of ancient civilized society and enable us to appreciate the brilliant wisdom of the ancient Chinese.
Da Meisha and Xiao Meisha Scenic Areas are Shenzhen's two excellent bathing beaches. On sunny days, many wedding couples come to the beach to pose for their wedding photos.
How to get there
By Bus
Bus no. 103, 360, 364, 425, 550 or 443
Admission
Da Meisha Scenic Area – Free
Xiao Meisha Scenic Area – CNY15
Major Shopping Malls in Shenzhen (Accessible by MTR)
Central Walk
The mall is conveniently located right at the Convention and Exhibition Center Metro station (Hui Zhan Zhong Xin) in Futian and features three levels of shopping, entertainment and dining.
The levels comprise of L1: cosmetics, shoes, handbag, boutique accessories, ladies clothing, gentleman suits, business casual, fine jewelry and watches, fashion accessories, business supplies.

UG: boutique pregnancy clothes, children's clothing, toys, ladies clothing, beauty SPA, video games.
G: girls casual, fashion accessories, youth leisurewear, sportswear, outdoor products, cosmetics, beauty care products.

Central Walk Mall also features a large Carrefour Supermarket which has some imported foods. There are also a couple of bars which are popular with expats, plus a NYPD pizza shop, Papa Johns Pizza and Starbucks amongst the many cafes/restaurants.
How to get there
Futian District, Fuhua Rd, Shenzhen, 深圳市中心区福华路.
By subway, alight at Hui Zhan Zhong Xin (Convention & Exhibition Center) along Luobao line.
Coco Park
Coco Park features much more than a shopping mall, the area also features a popular bar street, large open public spaces and some great restaurants. At this modern development you can find many al-fresco cafes and both Asian and Western cuisines.

Shopping at the mall you can find mostly fashion for men and women. There are over 200 domestic and international brands and on the underground floor you can find a Jusco supermarket, international chain restaurants, jewelry, accessories, personal care, home life, audio, video, gift shopping. The first floor features international boutiques, jewelry, watches, classic accessories boutiques, International Bar Street. The second floor features business casual wear, ladies fashion, leisure sports city, international food and drink, fashion accessories, home life, gift shop and the Broadway Circuit cinema. The third floor features fine dining, beauty care and SPA.
How to get there

168号 Fuha 3rd Road, Futian District
Board the MTR on Luobao Line to Gou Wu Gong Yuan (Shopping Park) station.
The MIXC
As the forerunner in China's shopping centers, The MixC has been leading the new life style trend by advocating new international shopping ideas and exhibiting its elegance and fashion. All can be found in this over 200,000 square meters palace are international brands, top fashion, entertainment, cultural life, both eastern and western cuisines and so on.

World Classics Shine Here
As the top shopping center with the most luxury brands in China, The MixC has such international brands as LOUIS VUITTON, GUCCI, HERMÈS, PRADA, Dior, FENDI, Salvatore Ferragamo, Cartier, BVLGARI, DOLCE&GABBANA, TIFFANY&Co., MONTBLANC, miu miu, BOTTEGA VENETA, Ermenegildo Zegna, Alfred Dunhill, BOSS, ESCADA and EMPORIO ARMANI. Particularly, the first miu miu store in China mainland, Largest GUCCI and PRADA Flagship stores in the Asia-Pacific region, and Largest LOUIS VUITTION flagship store in China are all located here.

Wonderful Fashion Experience
Experience a whole new lifestyle in The MixC with the World Ice Arena, Golden Harvest cinema and all other happy gathering place to your option.

Endless Happiness Here
From top brands to the most trendy fashion stores; from Michelin Star Restaurant to unique dessert stops; the over 200,000 square meters shopping space guarantees you the enjoyable time and you are reluctant to leave.

How to get there

No.1881, Bao'an Nan Road, Luohu District, Shenzhen
Board the MTR on Luobao Line to Da Ju Yuan (Grand Theatre) Station, proceed to Exit C.
CITIC Plaza
Citic City Plaza, located in Futian, has 6 levels comprising of fashion boutiques, jewelry, food on the lower ground level; B1 level for fitness sports; Ground floor features international boutiques, Bar Street, Star Plaza; level two and three feature International Shops; on level theres high-end restaurants; on level five and six features beauty, fitness and high-end restaurants.
Inside the same building there is also a Seibu Department store, a famous Japanese department store which is also popular in Hong Kong, featuring international brands in fashion, cosmetics and the like.

Famous luxury brands with stores at the mall include Louis Vuitton, Cartier, Fendi, TOD'S, Hugo Boss, Burberry, Versace, Ermenegildo Zegna, Versace, Hugo Boss, Polo Ralph Lauren, Bally, Cerruti, and many other world's top clothing brands.

There is also a Jusco Department store featuring groceries, staples and general merchandise and a large section for kids toys.
If you're hungry there's plenty to eat including McDonalds, Cafe De Coral, Brazilian BBQ, Haagen Dazs and many other casual dining options. For fine dining there's plenty of options on the upper levels.

At the front of the mall along Shennan Road you'll find a large public square with several bars.
Citic City Metro Arcade
Beneath Citic City Plaza is another mall, the City Metro Arcade, which links into the MTR Science Museum Station of Line 1. The Metro Arcade features 300 shops, although, there's a lot of stores on the opposite side of the road that remain vacant. The open stores include many discount fashion shops and fashion accessories. Stores include Valentino, CK and many Chinese brands along with many independent retailers. There are also several eateries.

How to get there

1095号 Shennan Middle Road Futian, Shenzhen
Board the MTR on Luobao Line to Science Museum Station